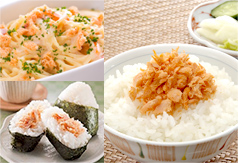 Our coarsely flaked salmon is widely used as a topping on steamed rice as well as with rice balls, pasta, canapés, and even in sandwiches too. The nutritious fish that makes up this leading fish flake product can be enjoyed any time of the day.

This product series is made from Japanese autumn salmon coarsely flaked to deliver a moist and gentle texture. A subtle tasting fish oil is used to provide soy sauce flavor.

As for our sister products, red salmon and king salmon, we use carefully selected ingredients and only add salt and soy sauce as seasoning to bring out the full flavor of the fish.

We use Japanese autumn salmon and make all efforts to retain the healthy fat content particular to the fish.
We coarsely flake the fish while retaining its moisture in order to deliver a product that is outstanding in both flavor and texture.
Product Lineup